Mariela Shaker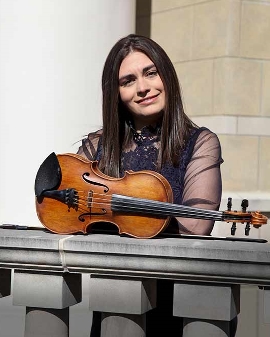 Syrian American Mariela Shaker is an international award-winning violinist and motivational keynote speaker. She is the founder and director of Highams Park Music Academy in London. Shaker is a Violin faculty at Knox College and Monmouth College since 2018. She strongly believes in music as a tool to bring people from different backgrounds together and to fashion peace and love in our world. Mariela strives to inspire her students to express themselves freely and to find their own unique voice as performing artists.

Shaker began playing the violin after joining the Arabic Institute of Music in Aleppo in 1999. She graduated with distinction from the Institute in 2004 and taught violin there for five years while she completed her Business Administration degree at Aleppo University. In 2013, she received a full-tuition scholarship to study Music Performance at Monmouth College in the US, where she received an Excellence in Music Performance honour. She subsequently was awarded a full-tuition academic scholarship for her Master's in Music Performance at DePaul University

Shaker served as Concertmaster for the Monmouth College Chamber Orchestra. She appeared as solo concert violinist with the Mesopotamian Symphony Orchestra at the California Theater; and, organised by the United Nations High Commission on Refugees (UNHCR), gave her debut recital at the Kennedy Center to commemorate World Refugee Day on June 20, 2015. Former President Barack Obama named her a Champion of Change for World Refugees and honoured her at the White House in 2015. On the invitation of the International Rescue Committee, she performed for Her Majesty Queen Rania of Jordan. In 2017, Mariela was appointed UNHCR High Profile Supporter and was also honoured with the Anne Frank Promise Keeper Award in New York City.

Events for Mariela Shaker
Adults' Events
Children's Events
Workshops & Masterclasses
Education Events
Award Ceremonies / Special Events / Film Screenings