Flavia Z Drago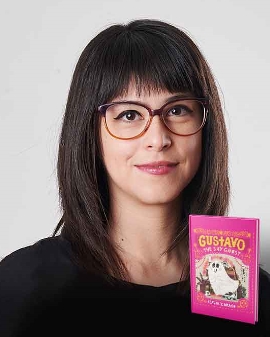 Flavia Z. Drago was born in Mexico City, where she grew up and studied graphic design. She later lived in Barcelona and Paris where she specialized in illustration. She graduated with an MA in Children's Book Illustration from Anglia Ruskin University in Cambridge, UK.

Drago currently collaborates with Walker Books, making picture books with monsters as main characters. This encouraged her to start a PhD researching horror as a genre in children's books, under the supervision of Martin Salisbury at Anglia Ruskin University.

Drago is the author and illustrator of Gustavo the Shy Ghost, which became a no.1 New York Times bestseller, and Leila the Perfect Witch. She has also written and illustrated the Monster Play series, collection of board books for toddlers. Drago won the Klaus Flugge Prize in 2021, which is awarded to the most promising picture book illustrator in the UK.

Nowadays, Drago lives in a small house with her partner and cat, where she likes to grow flowers and vegetables.

Events for Flavia Z Drago
Adults' Events
Children's Events
Workshops & Masterclasses
Education Events
Award Ceremonies / Special Events / Film Screenings