Budjette Tan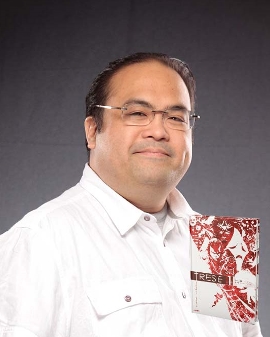 Budjette Tan supposedly grew up in a haunted house and was told to sleep early because there were blood-sucking aswang flying outside their house. Who would have known that these stories would later inspire him to write the comic book series Trese, co-created with artist Kajo Baldisimo.

Trese is a three-time winner of Best Graphic Literature of the Year in the Philippine National Book Awards. It is now globally available in three languages and was recently adapted into a Netflix animated series.

Tan was a co-editor and writer for the Alamat Comics, The Dark Colony books, The Lost Journal of Alejandro Pardo: Creatures and Beasts of Philippine Folklore, The Beast Bestiary and Sound: A Comic Book Anthology.

He now works in Denmark as a creative lead in the LEGO Agency. He lives there with his wife and son, far away from any aswang – or so they think!

By the way, his name is pronounced "budget", but don't ask him anything about finance.

Events for Budjette Tan
Adults' Events
Children's Events
Workshops & Masterclasses
Education Events
Award Ceremonies / Special Events / Film Screenings