David Walliams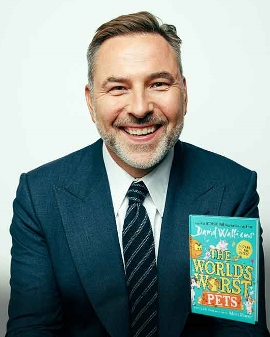 David Walliams has revolutionised reading for children and has become one of the most influential children's writers today. Since the publication of his ground-breaking first novel, The Boy in the Dress, Walliams has seen unprecedented growth with global sales exceeding 50 million copies, and his books translated into 54 languages across 34 titles, including two charity releases Blob (World Book Day 2017) and The Queen's Orang-utan (Comic Relief 2015). Collectively across his titles, Walliams has celebrated 76 weeks (non-consecutive) at number one in the overall book charts and more than 200 weeks (non-consecutive) at number one in the Children's charts – an achievement no other children's writer has reached.

In 2021, Walliams released two fiction titles, Megamonster and Gangsta Granny Strikes Again, his first-ever sequel to celebrate the 10th anniversary of the iconic, fan favourite Gangsta Granny. In 2022 Walliam was yet again at the top of the charts with the sixth instalment in The World's Worst series, The World's Worst Pets and the brand-new novel for autumn Spaceboy published this September.

Walliams's The World of David Walliams publishing brand has evolved into one of the biggest multi-media entertainment brands in the UK today, engaging and delighting children across a multitude of platforms. The world beyond the books includes licensed products, TV adaptations, theatre productions, arena tours, and an attraction based on his perennial bestselling novel Gangsta Granny at Alton Towers resort.

Walliams is one of Britain's best-loved comedians. Little Britain, his creation with Matt Lucas, won numerous international awards including three BAFTAs, and now plays in over 100 countries. It was followed by one of the most popular comedies of all time, Come Fly with Me. He has also been a judge on the ITV talent show Britain's Got Talent since 2012. His vocal talents have also been heard in numerous films including the Oscar nominated Missing Link.

Events for David Walliams
Adults' Events
Children's Events
Workshops & Masterclasses
Education Events
Award Ceremonies / Special Events / Film Screenings